Allport Marina on Lake Muskoka - Bracebridge, ON
---
Nestled in Allport Bay on beautiful Lake Muskoka, Allport Marina is a full-service and family-owned marina operation. For over 50 years our location has afforded our customers calm docking conditions, close proximity to the town of Bracebridge and ideal access to the middle of Lake Muskoka and its many islands.
We offer on-site full mechanical service for all boat makes and models by licensed technicians, winter storage, detailing, fiberglass and gelcote repair, Tohatsu motor sales, gas pumps and a well stocked retail store.
With over 180 covered and uncovered dock slips, all of which are newly constructed, we are one of the largest marinas in Muskoka. Please give us a call or drop by to see how we can assist you with your boating needs.

Service & Storage on Lake Muskoka
If you are looking for a safe place to store your boat for the winter or need our helping hand with repairs and detailing then stop by and see the difference Allport Marina makes.
Boat Repairs
---
During the summer season we are open when you need us with licensed mechanics and technicians on-site seven days a week. From routine maintenance to major repairs, our certified service department would be happy to assist you. We also have diagnostic software interfaces for almost all major marine engine manufacturers, not just the lines we distribute.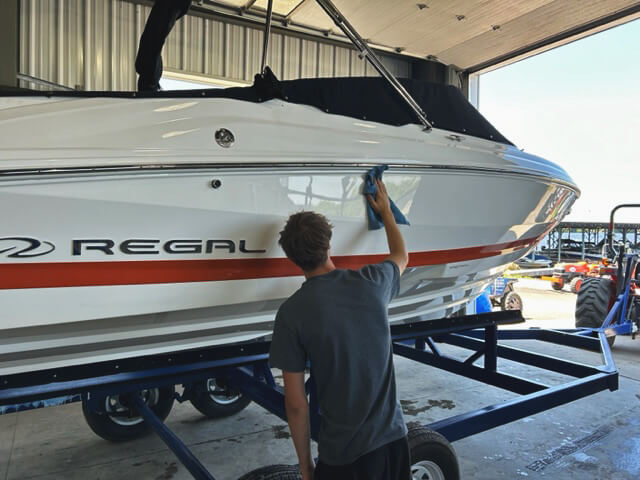 Boat Detailing
---
We love making boats look like new again! Last year alone we detailed more than 300 boats. We believe that a proper detail job covers bow to stern, top to bottom, and requires specialized equipment to provide dry-land access to the entire hull of the boat and the tools specific for the job. And we don't think it should cost the moon.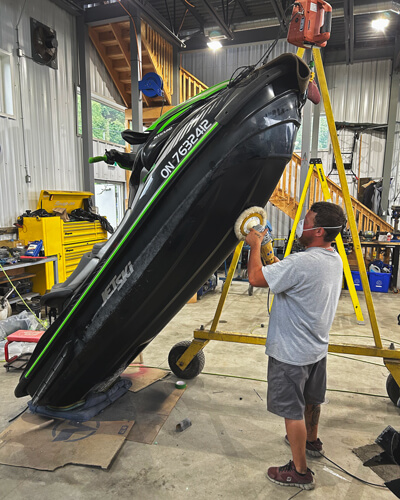 Fiberglass and Gelcote Repairs
---
On-site fiberglass and gelcote repairs are made by one of our trained fiberglass technicians. Keeping your boat's hull well maintained will dramatically increase the lifespan of the vessel and is always a great investment.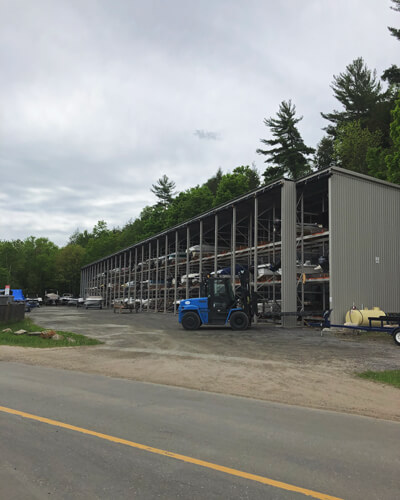 Winter Storage
---
Whether you store your boat for the winter in one of our eight enclosed buildings or remotely in your own boathouse or garage, we hope that you will consider our services to assist you. We work hard to keep our pricing extremely competitive and provide excellent service to protect you and your boat through the winter.
Visit us today on Allport Bay just outside of Bracebridge
Driving Directions
From the GTA
Take Hwy 400 North to Barrie, and continue on Hwy 11 North to Gravenhurst. Passing Gravenhurst, follow the signs for Hwy 11 North to Bracebridge. Exit on Hwy 118 West (left) and follow it to Beaumont Drive (just prior to crossing the Muskoka River). Turn left at the traffic light on Beaumont Drive. We are located at 1640 Beaumont Drive (approximately 6 km from Hwy 118 on your right side).
From Huntsville
Take Hwy 11 South towards Toronto. Exit on Taylor Road to Bracebridge and turn right. Follow Taylor Road West until it ends at Manitoba Street. Turn left and follow Manitoba Street to the first stop sign. Proceed straight through the intersection to Ecclestone Drive. Follow Ecclestone Drive to the next traffic light. Proceed straight through the traffic light to Beaumont Drive. We are located at 1640 Beaumont Drive (approximately 6 km from the traffic light on your right side).